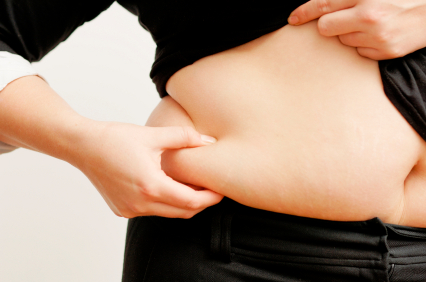 Why this is the number one way to get rid of belly fat Have you ever wondered why – despite all your dieting efforts – you keep gaining belly fat? As you age, it becomes more challenging to keep excess inches off your abdomen and abdominal fat is fat you don't want...
read more
Choose the right fitness plan to Get Fit after 40
To Get Fit, and Lose Fat, stop doing your 5 mile runs or your hour-long treadmill sessions and replace them with High-Intensity Strength Training instead.
One of the reasons why people continue to struggle with their weight despite engaging in regular exercise is because they're not doing the right kind of exercise! Studies have confirmed that exercising in shorter bursts with rest periods in between burns more fat than exercising continuously for an entire session.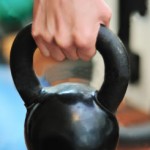 By doing Strength Training, Cross Fit or another high intensity workout, such as TRX Training, you can cut the duration of your exercise session in half and still burn fat! One study showed you can burn more fat exercising for 20 minutes than for 40 minutes. In the study, women either exercised for 20 minutes, alternating 8 seconds of sprinting on a bike with 12 seconds of exercising lightly, or exercised at a regular pace for 40 minutes. After exercising three times a week for 15 weeks, those who did the 20-minute, alternating routine lost three times as much fat as the other women.
This type of exercise works because it produces high levels of chemical compounds called catecholamines, the so called "fight-or-flight" hormones, which allow more fat to be burned from under your skin and within your muscles. The resulting increase in fat oxidation is thought to drive the increased weight loss.
High Intensity Exercise Increases Growth Hormone Production
The higher your levels of Human growth hormone (HGH), also called "the fitness hormone", the healthier and stronger you will be. After age 30, your levels of human HGH begin to drop off quite dramatically, this is called "somatopause and leads to the dreaded "middle age spread". Maintaining your HGH levels is increasingly important as you age. You will experience vibrant health and strength the longer you can keep your body producing higher levels of HGH.
You must engage your super fast muscle fibers in order to naturally increase your body's production of HGH. Regular aerobic cardio such as running only works your slow muscle fibers, and can impede natural HGH production by causing your super fast fibers to atrophy from lack of use. Only high-intensity power burst cardio training, such as Cross Fit exercises, TRX Training or others, will engage your super fast fibers and promote HGH production.
The Benefits of Strength Training
Women tend to avoid exercises that will increase muscle mass, but carrying more muscle has many health benefits, including:
• Improved blood circulation
• Increased metabolism
• Increased bone density
• Increased energy
• Decreased body fat
• Improved posture
• Increased range of motion
• Increased body functions
Strength training is recommended for women of all ages, including seniors. Retaining your skeletal muscles is one of the most critical elements of human fitness to keep you strong, functional and healthy. Your muscles also help regulate glucose and lipid metabolism and insulin sensitivity, which protect you against obesity, diabetes and cardiovascular disease. Cross Fit and high-intensity interval training which have intense speed and power exercises trigger a mechanism in your muscles that actually promotes muscle growth.
Exercise Slows Down Your Aging
Exercise also has other anti-aging benefits such as it can prevent or delay the onset of heart disease, hypertension, obesity, and osteoporosis, which are all common ailments associated with advancing age.
Also, if you can control the aging process inside your cells, as one anti-aging theory suggests, you should be able to control your rate of aging. Telomeres are part of your chromosomes which are inside each of your body's cells. When your cells divide, these telomeres shorten and when they get to a certain level you will die of old age.
Exercise can not affect the telomere shortening process, but it can be accelerated by an unhealthy lifestyle. Exercise plays an important part in the prevention of aging. So, lack of exercise, obesity, stress, and smoking, all cause production of free radicals that speed up cells splitting and the telomere shortening process.
---
Need more ideas for Cooking Healthy Meals, then check out: The Healthy Urban Kitchen Cookbook The Healthy Urban Kitchen is a simple, step by step system for shopping, cooking and eating the world's healthiest foods. It was created for busy people who want to improve health, have more energy, and prevent disease.
Have you ever wondered why – despite all your dieting and exercise efforts – you keep gaining belly fat?
As you age, it becomes more challenging to keep excess inches off your abdomen and abdominal fat is fat you don't want hanging around, literally.
Your body has two types of fat. Subcutaneous fat is found just under your skin and is very noticeable fat in that it jiggles, dimples, and causes cellulite. Visceral or "Belly" fat is fat on the inside of your body, under your abdominal muscle, typically what we refer to as having a "Beer Belly". It is more dangerous than subcutaneous fat because it can surround vital organs like your liver and heart, plus you can even have this fat if you are thin. Visceral fat is linked to heart disease, Type 2 diabetes, strokes and other chronic diseases.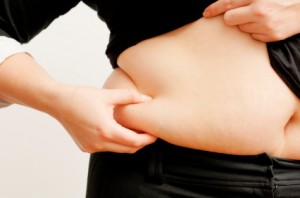 Leptin is a protein hormone that plays a key role in regulating energy intake and energy expenditure, including appetite and metabolism. Leptin resistance causes an increase in the visceral fat & contributes to the development of obesity & in determining your risk for Type 2 diabetes and other serious diseases. Leptin signals to the brain that the body has had enough to eat, producing a feeling of satiety.
Since belly fat can be resistant to many of the best diet and exercise programs and the most difficult fat to lose, there are several things you can do to help promote your cells' ideal sensitivity to leptin.
How to Get Rid of Belly Fat
Exercise is one of the best ways to get rid of belly fat, which will lower your insulin levels and visceral fat production. ( See our exercising with Cross Fit Article )
Exercise was found to take the fat away quickly. Those who jogged for 17 miles each week had significant decreases in visceral fat, and subcutaneous abdominal fat.
A combination of a regular exercise program with a healthy eating program is best, plus:
* Avoid processed foods
* Avoid high fructose corn syrup, sugars, ( refined sugar has been shown to be more addictive than cocaine) grains, fruit juices, and sweetened and diet drinks
* Supplement with high quality omega-3 fatty acids (Krill oil is a good, highly absorbable form to use)
Measuring Your Belly Fat & Diabetes Risk Instantly
Your waist size is the best indicator of insulin sensitivity. Take a tape measure, and measure the distance around the smallest area of your abdomen below your rib cage and above your belly button.
For women your ideal waist measurement should be between 28 and 33 inches.
You are overweight if your waist is between 33 and 37 inches, and Obese if your waist is over 37 inches.
Nutritional Typing
One of the most important steps in helping your cells is to choose foods that are right for your body type. ( See our article: Feel better by modifying your diet based on your body type )
By determining your unique Nutritional Type (Dr. Mercola video link ), you can then select foods that work best for your body. Dr. Mercola believes it's clearly one of the most critical things you must do to support good health. Nutritional Typing is one of the only systems that customizes nutrition based on the way your body reacts to food.
This can help to explain why certain foods make you feel bloated, sluggish, and generally not great after you consume them, even if they are so-called "healthy" foods.
Once you start using Nutritional Typing I'll bet you'll soon start to notice:
* Greater meal satisfaction
* Less desire for between meal snacks
* Food cravings diminish
• And less belly fat….
Click here to Take the Nutritional Typing test for Free Now.
Are you sure that you are getting everything you can out of your core routine?
With all of the new developments in core training, it's difficult to keep up with the latest and most effective tools and techniques. Though the core has become a mainstream concept, most exercisers have a clouded view of what exactly the core consists of, its importance and what the best ways are to activate it.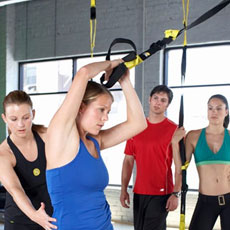 The core includes the following muscles: Transverse Abdominis, Rectus Abdominis, Multifidus, External Obliques, Internal Obliques, Quadratus Lumborum and Erector Spinae. It provides a stable platform which launches all of our movement by stabilizing the spine. The core generates the rotational forces needed for many athletic movements including throwing, swinging, striking and twisting. It acts to resist or neutralize external forces such as gravity, contact or momentum. We are only as strong as our core. A weak core limits our strength capacity.
Four Tools to add to your Core Training Routine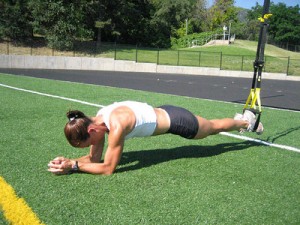 TRX Suspension Trainer
The TRX® is one of the most innovative additions to core training in recent years. It's a non-elastic, adjustable harness constructed of industrial-strength, nylon webbing which uses bodyweight as the sole source of variable resistance. The TRX allows for hundreds of exercises that can accommodate all fitness levels. It integrates the core's postural, stabilizer and neutralizer components in all of its exercises and the addition of the suspended planks, crunches and oblique capabilities make it one of the most effective tools on the market.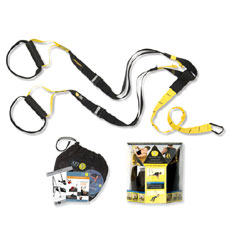 Ex Navy Seal, Randy Hetrick of Fitness Anywhere, in San Francisco's Russian Hill developed his prototype for his TRX Suspension Trainer out of necessity. As a special ops squadron commander, he needed a way to keep his team in world-class shape without having access to world-class gyms. So he bought a $49 sewing machine & using some parachute webbing and began stitching away. The rest is history. Since hitting the market in 2005, the portable straps have recorded more than $20 million in sales. TRX training kit Fitness Anywhere has been ranked by Outside Magazine as one of the top 30 places to work in the United States this year.
The Stability Ball
creates an unstable environment that requires more work from the core. Simple yet demanding, the stability ball can be used to add challenge to many exercises and modify others.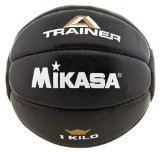 Heavy Ball
Most modern heavy balls are constructed of a textured rubber that is mad to bounce. Heavy balls are the perfect exercise tool when training the core to control external forces, to stabilize the body while applying internal forces, and when working at higher speeds.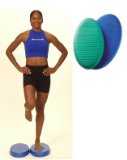 Balance Devices
Balance devices come in all shapes and sizes: wobble boards, balance discs, Bosu balls, Bongo boards and foam balance surfaces. They all destabilize the surface using a base of support in one way or another, making the core more responsive. A word of caution: Always evaluate possible danger versus potential benefit before attempting any exercise that destabilizes your base of support.
Start with the Basics:
Improve Your Deadlift
Unfortunately, the deadlift is used infrequently to build strength especially by women and rarely performed by most of the exercising public including many athletes. If you want to get stronger, improve your deadlift.  The deadlifts benefits are easily understood, completing a set gives you a quick boost in overall whole-body strength and sense of power in lifting such large loads.
I've been doing my CrossFit Bootcamp for 8 months now, 3 times per week for an hour each time. This morning we did a series of deadlifts at increasing weights, after our usual stretching warmup and gymnastics poses. My max deadlift today was 180 lbs for 5 reps. I certainly felt the satisfaction of being able to lift such a heavy load and I enjoyed the endorphin rush that came with it.
Regardless of whether your fitness goals are to "rev up" your metabolism, increase strength or lean body mass, decrease body fat, rehabilitate your back, improve athletic performance, or maintain functional independence as a senior, the deadlift is a definite shortcut to that end. The CrossFit Journal recommends: "deadlifting at near max loads once per week or so and maybe one other time at loads that would be insignificant at low reps. Be patient and learn to celebrate small infrequent bests."