I love fresh greens everyday in my salads and since I work at home a lot, I enjoy walking out onto my deck and harvesting my lettuce greens fresh from the garden everyday. Since my actual garden is down in the back yard I decided to make it more convenient by creating these EarthBox Salad gardens on my deck instead. I can harvest about 2 salads/day when they are in full bloom and they easy to make and even easier to keep growing once you have them built.
So check out my video and let me know what you think:
[youtube http://www.youtube.com/watch?v=dzfR1gOo4Hs&w=420&h=315]
Here are some photos of the EarthBox Salad Gardens in full swing…these have several different greens and spinach.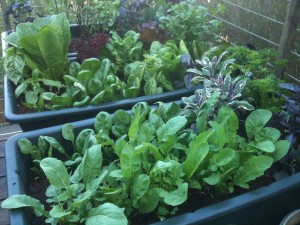 This EarthBox has Serano Chilies and 3 Varities of Basil, and Chives