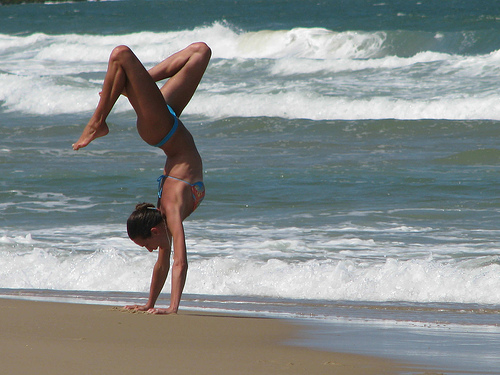 Handstands, hand walking, and pressing to a handstand are excellent exercises to developing your athletic potential. Even my Mom remembers doing handstands & cartwheels as a kid, yet today hand balancing seems to have fallen out of favor.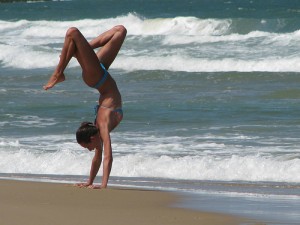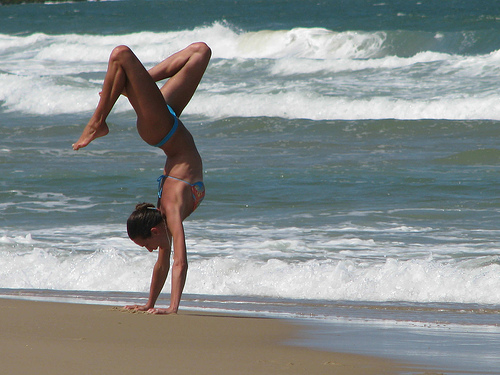 Of course, we think we grow out of doing such movements as we get older. I have a yoga friend who comes to my house, kicks off her shoes and does a handstand against my wall just to get the kinks out after a long day. She is so effortless. I decided I needed to be able to do that. Something about being upside down appeals to me. They say that the handstand is the first step to developing a catlike capacity for landing on your feet. Oh boy, I can't wait!
Being upside down gives you a whole new perspective to a brand new world. Being upside down is a whole other world for your mind and body to comprehend. We spend roughly two thirds of our life upright and one third in lying down. When upside down most of us lose our breath, orientation, and composure. Having the ability to land effectively on your feet after tripping versus knocking your teeth out can be a result of mastering these movements. I had a near catastrophic fall happen just the other day. I slipped on the top of some wet stairs and I went flying down 4 steps to land gracefully and without injury. I attribute that excellent landing to a bit of luck but mostly to the balance and coordination I have gained by developing my core strength and agility training.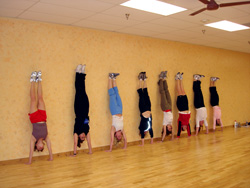 Increased coordination, accuracy, agility, and balance are all developed through the hand walking and hand pressing movements. Full body movements such as hand balancing & presses improve balance and increase shoulder strength, but they also improve proprioception and core strength in ways that other exercises cannot. Proprioception (pronounced/ PRO-pree-o-SEP-shin), from Latin proprius, meaning "one's own" and perception, is the sense of the relative position of neighboring parts of the body. In other words, when you are up side down you get a whole new view of the world and so does your brain, which thrives on new stimulus.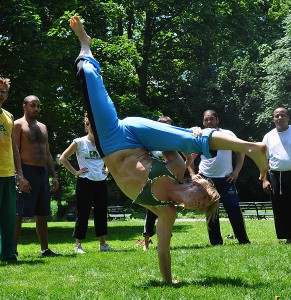 If you just starting out & you are afraid of falling over, start by practicing up against a wall and slowly move up the wall backwards. This is always a good a idea to start with a spotter but in time you'll get more confident on your own.
Once you are out in the open on a grassy field, practice falling over using a tuck and roll. Most of this skill is about visualizing and having confidence. If you are afraid and think you will fall, then it is more likely that you will. I have found that like any new skill, practicing a little bit every day is what will make the difference.