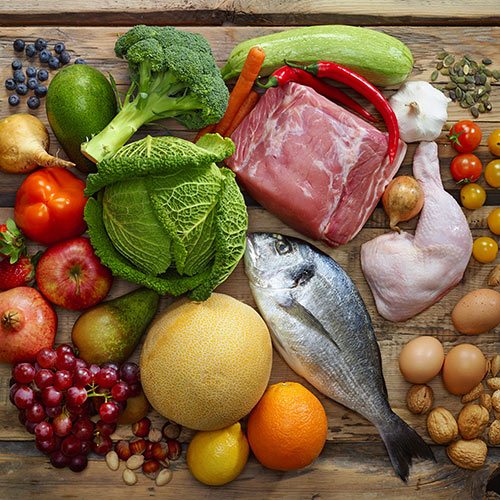 My Cross Fit Trainer has this to say in answer to this question…"Many are so wedded to their current ways that they will disparage it because it is so threatening to the current prevailing ethos ("everything is okay in moderation," "people just eat too damn much", etc.). There is no caloric restriction built into the diet. None."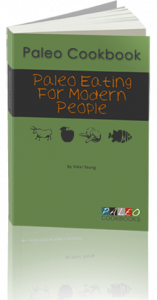 The Paleo Cookbooks – Complete Recipe Guide to Healthy Eating>>
"You eat until you are completely satisfied and snack at your own discretion and are pretty much never fiendishly hungry unless you miss a meal. We only regulate the content of your diet, not the quantity, because your body has an amazing hormonal system that takes care of the caloric details for us already (and has been doing so for millenia before anyone even knew what a "calorie" was). It's the difference between burning fat for fuel (practically unlimited supply of energy, only small changes in energy levels) and burning sugar for fuel (very limited supply, large swings in energy levels ("sugar highs/crashes"). You will not need to murder anyone for a cookie because the new way you will experience "hunger" will not be so debilitating."
Paleo Fat Blast Meal Plans
A full 6 weeks of delicious and easy to follow paleo-friendly meal plans for Men and Women. Take the boredom and hassle out of eating healthy-for good! Click Here for 6 weeks of Paleo Meal Plans
He goes onto say…:
"I have never heard of or read about any case of a person who was not at least mildly successful when they followed it for any good length of time and, generally, the longer and more diligently people follow it, the more drastic and profoundly life-altering their experience."
"Consider this: I was already pretty close to my own ideal weight and current fitness level when I started doing Paleo at the beginning of this year, and even so my own experience has been like achieving enlightenment, physically and mentally. You will feel better. You will perform better in class and in life. You will get sick less often.
You will find that "little thing" that's been nagging you for months all of a sudden goes away. Your libido will all of a sudden increase ;). You will become happier because it's like you've solved the riddle of the sphinx and can now focus your efforts on other productive aspects of your life. I kid you not. The experience is so multi-faceted that it's almost futile to try to capture it in words, which is why this little 25 day exposure will be so amazing for everyone who gives it an honest try.
Also, get the book because that will answer a lot of the common questions and concerns.
The Paleo Cookbooks – Complete Recipe Guide to Healthy Eating>>
Everyday Paleo Pumpkin Pie
Crust
1/2 cup hazelnuts
1 cup pecans
4 tablespoons melted organic grass fed butter
pinch of sea salt
Preheat oven to 350. Place the nuts in a food processor and process until the nuts are a flour like or almond meal like consistency. Pour into a small mixing bowl, add the butter and salt and mix into a thick dough. Using your hands, spread evenly into a pie pan and back for 10 minutes.
Filling
1 – 14oz can of organic pumpkin puree or fresh pumpkin
2 teaspoons ground cinnamon
1/4 teaspoon ground cloves
1/4 teaspoon fresh grated ginger
2 eggs
1/2 cup raw organic honey
1/2 cup coconut milk
While the crust is in the oven, whisk all of the pie filling ingredients together. Pour into the crust that has been baked for 10 minutes, return to the oven and bake for and additional 45 minutes.
Paleo Stuffing
1 lb mild Italian pork or chicken sausage, casing removed
4 ½ cups mushrooms, diced
1 medium yellow onion, diced
6 celery stalks, diced
4 carrots, diced
1/2 cup chicken broth
1 tablespoon diced fresh sage
½ tsp minced fresh thyme leaves
½ cup dried cherries, finely chopped
½ cup slivered almonds
½ tablespoon garlic powder
4 tablespoons olive oil
Sea salt and black pepper to taste
Preheat oven to 350. In a large soup pot, sauté onions in olive oil until translucent. Add the sausage and brown. Add the carrots, celery, mushrooms, chicken broth, cherries, almonds, sage, thyme, garlic powder, salt and pepper. Mix well, bring to a simmer, and cook for 5-10 minutes or until the veggies begin to absorb the chicken broth. Transfer to a large glass baking dish, cover tightly with aluminum foil and bake at 350 for 45 minutes.
Robb Wolf's 30 Day Total Transformation
Do you want to…Lose weight? Feel better? Have more energy? Reduce inflammation and pain? Reverse diseases like rheumatoid arthritis, ulcerative colitis, lupus, autism, diabetes, and obesity? Look, feel, and perform at your best ever?
Get your 60-page Guide for just $25

Need more ideas for Cooking Healthy Meals, then check out: The Healthy Urban Kitchen Cookbook The Healthy Urban Kitchen is a simple, step by step system for shopping, cooking and eating the world's healthiest foods. It was created for busy people who want to improve health, have more energy, and prevent disease.