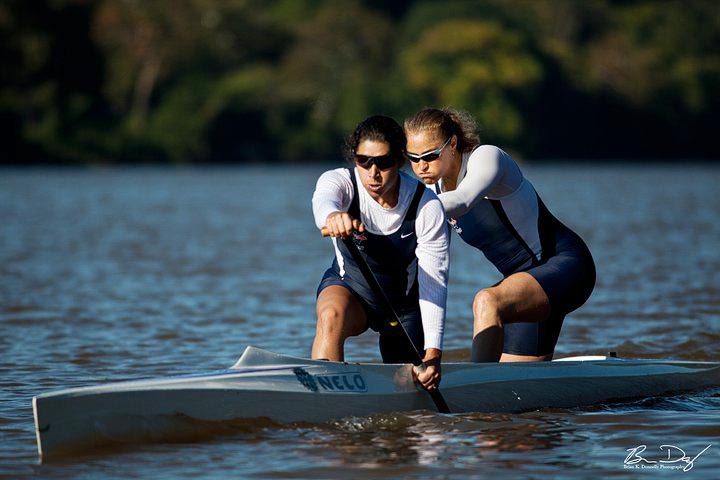 This is a follow-up to a story I did last summer on USA Canoe/Kayaker, Pam Boteler. See the article, World-class athlete, activist and raw food vegan at 40.
Boteler is the top American woman in sprint canoeing, a high intensity flatwater sport that's a growing craze among women at boating clubs across the United States. Competitors kneel in sleek carbon-fiber boats and paddle furiously on one side for up to 1,000 meters.
Sprint/flatwater canoe (also known as "high-kneel) is currently an Olympic event for men, but not for women, and is the last summer Olympic sport to not have full gender equity. (Women's ski jumping is the last winter Olympic sport not to offer women's events.) Canoeing is the companion discipline to kayak (an Olympic event for men and women). Canoe/Kayak is one of the oldest Olympic sports, and one of the most difficult, as it is a classic test combining speed, power, endurance, and balance.
Pam is over 40 and still competes regularly against "kids 18-23" and she still wins. Recently, with her canoe partner (30, with 2 kids and another on the way) and she won 3 bronze medals at the Pan American Championships in Mexico City ( at altitude), setting a new American record in the C2 200m event (2 person canoe).
They also set a new 500m record at the national championships in August in Oklahoma City, where they won 3 gold medals. And they finished 4th at the World Championships in Poznan, Poland in August.
She writes: "Thank you – for featuring me. Your blog is awesome and inspiring (great outrigger photo!). I look forward to reading from your site about amazing women over 40, 50, 60. Thank you for what you are doing for so many women. Life certainly begins in many ways after 40. "
Pam Boteler
Need more ideas for Cooking Healthy Meals, then check out: The Healthy Urban Kitchen Cookbook The Healthy Urban Kitchen is a simple, step by step system for shopping, cooking and eating the world's healthiest foods. It was created for busy people who want to improve health, have more energy, and prevent disease.