You don't have to spend a fortune to get a great workout in.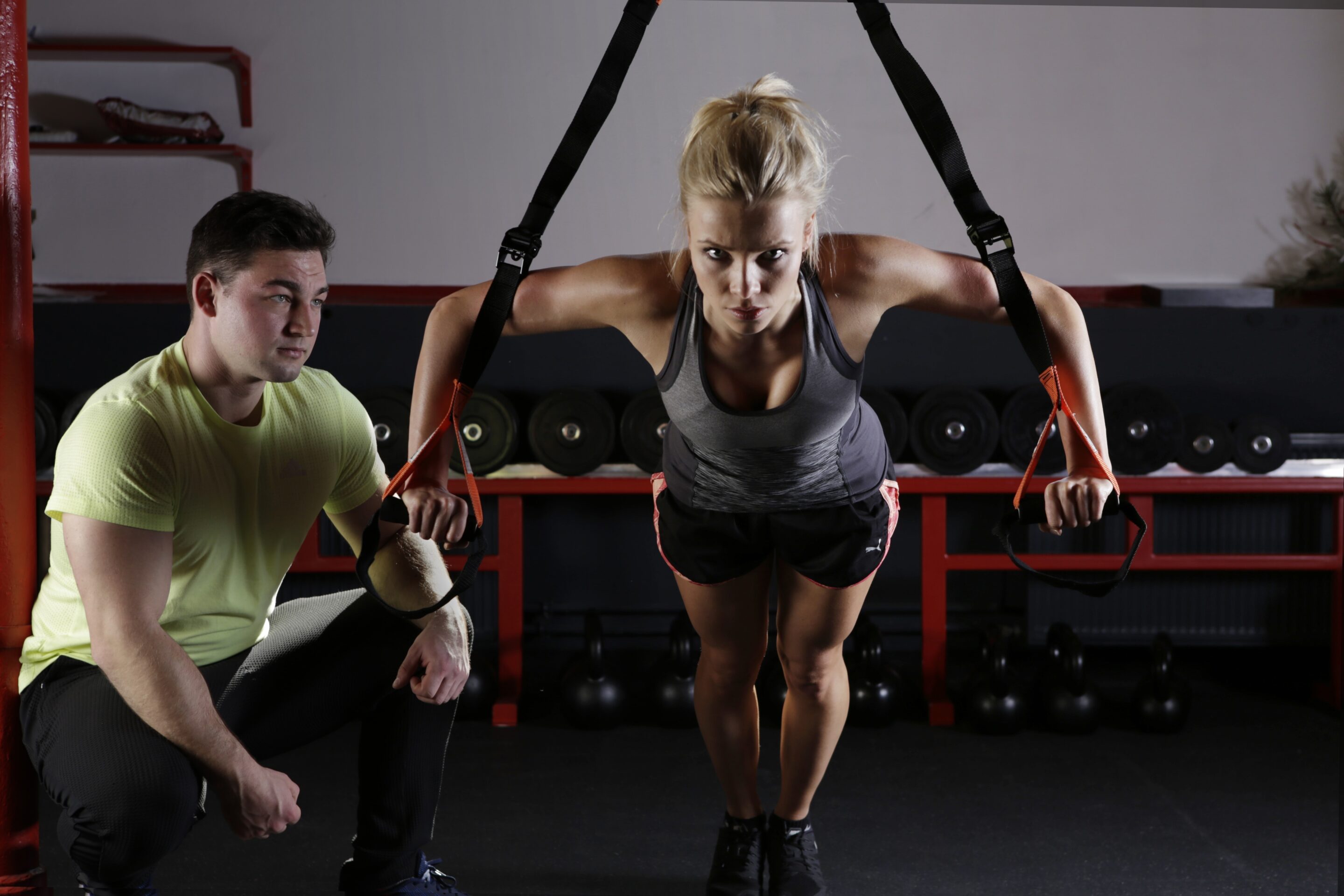 You may be throwing your money away for a gym membership that goes unused.
In USA Today, their research shows that 67 percent of gym memberships go unused. Putting that $60/month on average that people pay towards your home gym may be the best investment.
Create a workout space in your home that suits your unique needs. Below are 10 strength training essentials you can start with to build your at home gym, including a bosu ball, speed rope and weighted walking vest. Important gear to help you reach your goals.
Hands down this is my favorite piece of workout at home equipment. It is so versatile and there numerous ways to make these full body movements into a fantastic quick high intensity workout. It's easy to increase the resistance as you get into better shape, so it's great for beginners and hard core fitness buffs.
TRX All In One Suspension Training System: Full Body Workouts for Home, Travel, and Outdoors | Includes Indoor & Outdoor Anchors, Workout Guide and Video Downloads
TriggerPoint GRID foam rollers feature a patented design that offers a multi-density exterior constructed over a rigid, hollow core for superior effectiveness and durability. The GRID's sturdy construction withstands repeated use while maintaining shape and integrity. Unlike traditional foam rollers, the distinctive, multi-dimensional surface of the GRID replicates the feeling of a massage therapist's hands to help channel blood, improve oxygen flow, and heal tissue. TriggerPoint GRID Foam Rollers can prepare the body for peak performance by helping users recover from injuries, relieving muscle and joint pain, and improving circulation, flexibility, balance and mobility.
TriggerPoint Grid Foam Roller – PINK for $34.99 – Free Shipping
Weight Vest for Running, Workout, Crossfit, Cardio, Walking, 4lb or 8lb
HANDS-FREE RESISTANCE: Women's weighted vest adds hands-free resistance to physical activities, including walking, running, CrossFit training, gardening, and housework

MADE FOR WOMEN: Contoured x-shaped silhouette designed specifically to fit a woman's figure; sand sewn into weighted vest to evenly distribute weight

COMFORTABLE DESIGN: Soft, stretchy Lycra spandex weighted workout vest with adjustable side straps fits waist sizes from 24 to 48 inches
Empower Weighted Vest for Women 8lbs for $25.69 – Free Shipping
Bosu Balance Trainer is known industry-wide as a versatile fitness device that delivers killer cardio workouts, builds strength, improves balance and flexibility, and fine-tunes sport skills. It consists of an inflated rubber dome attached to a rigid platform.
The Bosu name is an acronym for Both Sides Utilized which refers to its versatility as a training device. Using the Bosu Balance Trainer dome side up provides an ever-changing, unstable, dynamic surface while the device itself remains stable. This element of instability is what creates the added challenge during exercises and is what makes Bosu so effective, and fun, as a fitness device. Flip the Bosu over and use dome side down to discover even more exercises.
Bosu Balance Trainer for $99.99 – Free Shipping
32-Pound Set with Stand
Training with dumbbells allows you to select resistance training exercises based on their similarity to actual movements that occurs during sports. Dumbbells require more balance than training with barbells or machines, and balance is crucial for optimal performance.
Dumbbells also require more muscular control than barbells, thus enhancing kinesthetic awareness. The best part of training with dumbbells is it allows the athlete to train through a greater range of motion than barbells on some exercises. Understand that it is sometimes more valuable to trade heavy weights (Barbells) for more sport-specific movements.
BalanceFrom GoFit All-Purpose Dumbbells 32lbs for $41.85 – Free Shipping
Amazing Cardio Workout, Designed for Double Unders
Generous handle length measures 6 inches long , with comfortable foam grips for a secure hold , and easy to adjust oversized thumb screws. Ball bearing jump rope design for high RPMs and tangle free operation , perfect for double unders

Our braided steel wire is PVC coated to be durable and smooth , and is 11 feet long to accommodate jumpers up to 7 foot tall . Vinyl end caps keeps ends neat if you decide to trim wire

Includes replacement cable , spare thumb screws and vinyl caps , nylon carrying bag for easy storage , and BONUS 4K Ultra HD eBook

One of the best gym accessories you can own is a speed rope. Jump ropes can increase your fitness endurance, and heart health
321 STRONG Aluminum Speed Jump Rope $8.99 – Free Shipping
Exercise Weight Ball for Strength Training, Cardio, Soft Fingertip-Grip Surface
DESIGNED FOR WOMEN: Our medicine balls for women are designed with a woman's body and needs in mind. Sculpt, tone and increase cardio and improve core strength.

BURN MORE CALORIES: Toss, swing and lift weighted medicine ball to blast calories. Combining cardio and weight training results in burning more calories.

CORE STRENGTH: Greatly improve your balance, core and posture with regular use of our weighted medicine ball.

FASTER RESULTS: Our sand/air mixture shifts inside the ball during use engaging stabilizing muscles to maximize your workout.

SOFT MEDICINE BALL: Made from high quality vinyl with a soft, fingertip-grip surface.
Professional resistance loop bands of 4 different resistance levels
* Red (15-35lbs): Low resistance for warm-up, stretching and light strength training. Perfect for shoulder training and other high performance speed training.
* Black (25-65lbs): Light to medium resistance to mobility exercises and stretching. Well suited for high stretch training / stretching.
* Purple (35-85lbs): Moderate to severe resistance for moderate fitness exercises and strength training. Also suitable as medium support for pull-ups.
* Green (50-125lbs): Heavy resistance for heavy weight training, strong support in pull-ups. Perfect for speed and agility training such as push ups, squats, bench presses and other exercises.
INTEY Pull Up Assist Resistance Bands – Set of 4 for $32.95 – Free Shipping
Dual Sided Gliding Discs for Abs and Full Body Workout Fitness Exercise Equipment | Use on Carpet or Hard Floor 
? SCULPT & TONE – Get a full body high intensity workout with Peach Bands Core Sliders. Activate and engage your core to burn fat and build lean muscle with an endless variety of exercises. Target your abdominals, chest, arms, butt and legs!

?SMOOTH GLIDE ON MULTIPLE SURFACES – Our sliders are dual sided to allow you to use them on almost any surface. Use the smooth thermoplastic side for carpets and the high density foam side for such as hard wood, laminate or tiles.

? PORTABLE & CONVENIENT – The mesh pink carrying bag makes it easy to bring them everywhere and match your lifestyle. Have an effective workout anywhere at home, the gym, or on the go while travelling or outside.

? FULL GUARANTEE – If you are not completely satisfied with your Peach Bands, we will refund your purchase. We value every single customer and are always available if you have any questions.

? JOIN OUR ONLINE COMMUNITY – Find us on social media @peachbands to join our growing community of strong women. We post daily with new workout ideas and inspiration. Follow and tag us to be featured to our thousands of followers!
Peach Bands Core Exercise Sliders – Set of 2 for $11.99 – Free Shipping
Did you find this guide to strength training equipment useful? Share with friends!