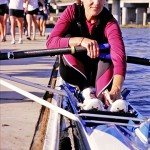 1. Show up everyday. I have found that 80% of the battle is being self motivated & disciplined. So work out with a team, then you'll have a good reason to show up everyday. I love the support and camaraderie of having women to compete against at my training sessions. They have become my motivation.
2. Track your Progress.  As Roz says, "Progress is very motivating. Lack of it is not." We keep journals at Cross Fit and the results I have seen have given me tremendous satisfaction. I have seen the pounds lost, the increase in weights lifted & the decrease in time on tasks. A sense of accomplishment can NOT be underestimated.
3. Enjoy the sunrise I can't believe the number of people who think they want to try Cross Fit until they hear that I get up at 5:30 a.m. It usually takes 21 days to change a habit. It's energizing to know that I have done my whole fitness routine by the time some people are just waking up.
4. Embrace Discomfort. Learn this concept. That to make significant changes happen, "You must do the thing which you think you cannot do", as Eleanor Roosevelt once famously said. Join a fitness group, no one will push you into discomfort better then a coach or trainer.
5. Workout with Laughter I swear laughing makes things easier. Just this morning, one of my cross fit buddies was cracking us up when she said she felt like an "old mare being tied to her cart", as we were started our weighted tire pull runs. You go ahead and try it without laughing.
6. Appreciate your teammates We are on a team at Cross Fit. We compete against each other but mainly we compete against time, our aging bodies and being uncomfortable. Since our workout group is very small, I appreciate when my "buddies" are there every morning to workout with, if they weren't I know I'd be much less motivated to show up…( See Habit #1)
7. Gratitude. The ability to find something to be happy about and thankful for, even on the worst of days. Essential…( See Habit #6) You are responsible for your own experience, but be thankful for those helping you.
8. Learn the Compounding Effect. Albert Einstein once said "One of the most amazing phenomenon of our universe is the power of compounding", most people think of bank accounts when they hear that term but it can be translated into anything. The basic premise is simple, if you add one small thing to your workout over time, the results will be astronomical. Currently, I am learning how to do Kipping Pullups, not an easy task, but everyday I am adding one more small step to my workout, so that eventually I will have accomplished my goal.
Check out this article on penny doubling if you don't believe me.
9. Don't Stop – Keep Exercising. Always keep moving. Even when its tough, keep committed, be unstoppable. Keep on your program. This is a way of life, not a temporary fitness regime.
Good Luck and Have Fun!
Need more ideas for Cooking Healthy Meals, then check out: The Healthy Urban Kitchen Cookbook The Healthy Urban Kitchen is a simple, step by step system for shopping, cooking and eating the world's healthiest foods. It was created for busy people who want to improve health, have more energy, and prevent disease.