Why this is the number one way to get rid of belly fat
Have you ever wondered why – despite all your dieting efforts – you keep gaining belly fat?
As you age, it becomes more challenging to keep excess inches off your abdomen and abdominal fat is fat you don't want hanging around, literally.
Your body has two types of fat. Subcutaneous fat is found just under your skin and is very noticeable fat in that it jiggles, dimples, and causes cellulite. Visceral or "Belly" fat is fat on the inside of your body, under your abdominal muscle, typically what we refer to as having a "Beer Belly". It is more dangerous than subcutaneous fat because it can surround vital organs like your liver and heart, plus you can even have this fat if you are thin. Visceral fat is linked to heart disease, Type 2 diabetes, strokes and other chronic diseases.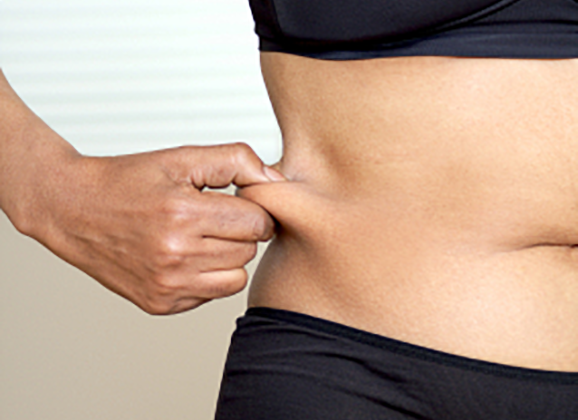 Leptin is a protein hormone that plays a key role in regulating energy intake and energy expenditure, including appetite and metabolism. Leptin resistance causes an increase in the visceral fat & contributes to the development of obesity & in determining your risk for Type 2 diabetes and other serious diseases. Leptin signals to the brain that the body has had enough to eat, producing a feeling of satiety.
Since belly fat can be resistant to many of the best diet and exercise programs and the most difficult fat to lose, there are several things you can do to help promote your cells' ideal sensitivity to
leptin
.
"Belly fat can be resistant to many of the best diet and exercise programs and the most difficult fat to lose."
How to Get Rid of Belly Fat
Exercise is one of the best ways to get rid of belly fat, which will lower your insulin levels and visceral fat production.
Exercise was found to take the fat away quickly. Those who jogged for 17 miles each week had significant decreases in visceral fat, and subcutaneous abdominal fat.
A combination of a regular exercise program with a healthy eating program is best, plus:
Avoid processed foods
Avoid high fructose corn syrup, sugars, ( refined sugar has been shown to be more addictive than cocaine) grains, fruit juices, and sweetened and diet drinks
Supplement with high quality omega-3 fatty acids (Krill oil is a good, highly absorbable form to use)
Measuring Your Belly Fat & Diabetes Risk Instantly
Your waist size is the best indicator of insulin sensitivity. Take a tape measure, and measure the distance around the smallest area of your abdomen below your rib cage and above your belly button.
For women your ideal waist measurement should be between 28 and 33 inches.
You are overweight if your waist is between 33 and 37 inches, and Obese if your waist is over 37 inches.
Nutritional Typing
One of the most important steps in helping your cells is to choose foods that are right for your body type. ( See our article: Feel better by modifying your diet based on your body type ).
By determining your unique Nutritional Type (Dr. Mercola video link ), you can then select foods that work best for your body. Dr. Mercola believes it's clearly one of the most critical things you must do to support good health. Nutritional Typing is one of the only systems that customizes nutrition based on the way your body reacts to food.
This can help to explain why certain foods make you feel bloated, sluggish, and generally not great after you consume them, even if they are so-called "healthy" foods.
Once you start using Nutritional Typing I'll bet you'll soon start to notice:
Greater meal satisfaction
Less desire for between meal snacks
Food cravings diminish
And less belly fat….